Click on thumbnails for larger picture
Here is my project as it was when I bought it in November, 1995. It's a 1957 Chevrolet 3100 Stepside. It was built in Baltimore, Maryland and was the 156th truck off the line at Baltimore that year. Originally it was equipped from the factory with a 235 inline six cylinder engine and a 3 speed transmission.
When I bought it, it had a 350 small block from an early 70's Monte Carlo, a Turbo 350 automatic transmission (which I had to replace) and a 3.08 rear end. The stock intake and carb were replaced with an Edelbrock Performer Intake and Carb package. You can see the pics of the new stuff here.

This was the interior. It was pretty much stock except for a very ugly rally sport wooden steering wheel that was full of splinters. It also had a hacked up dashboard where some former owner installed an 8 track radio. The truck had no power steering, it could get quite exciting trying to make a tight turn with the undersize steering wheel. I took a section out of a trashed donor cab and patched the dash. I also installed a factory original Deluxe heater which I rescued literally minutes before it went into the crusher. Other than cleaning out the rat's nest and painting the heater was in good shape.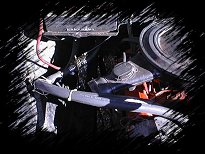 The heater control valve was missing but I used a valve from an old Ford pickup and it worked quite nicely. If you look closely in the picture you can see the valve just under the battery box and to the left of the air cleaner. The truck has alson been clipped with a 75 Noval front stub. Future improvements call for an original style wood floor for the box (replacing the current plywood floor) and the completion of the interior upholstery. For pictures of the front clip project, click here.